Friday 8 July 2022 marks the first International Paramedic's Day – an opportunity to recognise and celebrate the work carried out by paramedics and first responders around the world. We're proud to have a crew of committed and dedicated advanced paramedics helping to save lives by providing enhanced pre-hospital care to patients on a daily basis. To find out more about our paramedics, we sat down with Critical Care Paramedic Lee to hear about why he chose this career, and why he's #ProudToBeAParamedic.
Why did you become a paramedic?
I decided I wanted to be a paramedic a couple of years after leaving school. I was working in retail and thought I wanted a complete change of career. I thought that working in healthcare, especially as a paramedic, would be exciting, challenging, and most of all make a difference to those people who needed help.
That was nearly 25 years ago, (yes, I am that old!).
It was extremely difficult to get into the Ambulance Service back then, job vacancies were few and far between and the competition was high. After a couple of unsuccessful attempts due to lack of health care experience and going back to college to top up some qualifications, I started university and worked as a Staff Nurse for a while and became a community first responder. I then decided to have one 'last shot' at joining the Ambulance Service. This time, after 10 years of trying, I was finally successful and became a Student Paramedic in 2005 and a Qualified Paramedic in 2007.
Why did you choose to join the North West Air Ambulance Charity as a HEMS Paramedic?
Working for HEMS had been a long ambition of mine, however, after working in my area as a Senior Paramedic, it's fair to say I had become 'settled'. That being said, I felt I had come to a point where I needed a different type of challenge, plus, the Critical Care Paramedic role was something that appealed to me.
I can honestly say that what a challenge it certainly turned out to be! In all my career working with the Ambulance Service, this has definitely been the hardest thing I've ever done.
A HEMS Critical Care Paramedic requires an extra level of training and an advanced level of skills – how has that been for you?
This new role has involved commencing advanced clinical practice modules with university learning around the vast subject of advanced prehospital care and all sorts of aviation rules and regulations! I'm nearly 12 months in now and while it's fair to say I'm feeling much more settled, there is still lots to learn and experience to be gained.
As I've said, this is the hardest, most challenging thing I've attempted so far during my career, but if I were to be asked if I'm glad to be here?
Too right!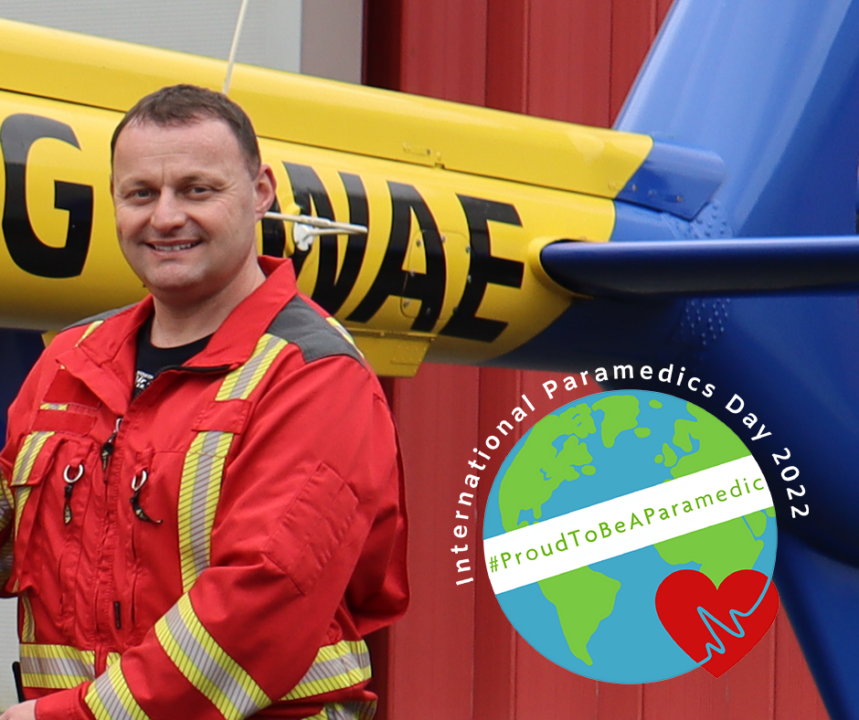 #IPD2022 #InternationalParamedicsDay #ProudToBeAParamedic