The North West Air Ambulance Charity are hugely grateful to Booths for raising £1,749 in contactless donations over the past year.
After cash donations in collection tins were dramatically hit by the pandemic, seven Booths supermarkets generously hosted NWAA contactless donations devices.
These devices spread across Garstang, Hale Barns, Kendal, Kirkby Lonsdale, Longridge and Lytham allowed customers to donate direct to the charity using their bank cards, ensuring both the safety of the staff and customers of Booths stores, and helping to fund the North West Air Ambulance's lifesaving service.
Chris Andrews, Corporate Partnership Officer at the North West Air Ambulance Charity, said "We are so grateful to Booths and their staff and customers for their support over the past year. The money they have raised is vital to our operations and will allow us to continue providing enhanced pre-hospital care to critically injured patients across the North West. The pandemic has hit us hard, but it is thanks to our supporters like Booths that we've been able to carry on our lifesaving work."
Just as many critically injured patients would not survive without the service that the charity provides, the North West Air Ambulance would not be here without the support of its community of fundraisers and partners. The charity is completely reliant on public and corporate donations to keep the North West Air Ambulance Charity service operational and helping to save lives, needing to raise over £9.5 million a year to support its lifesaving service.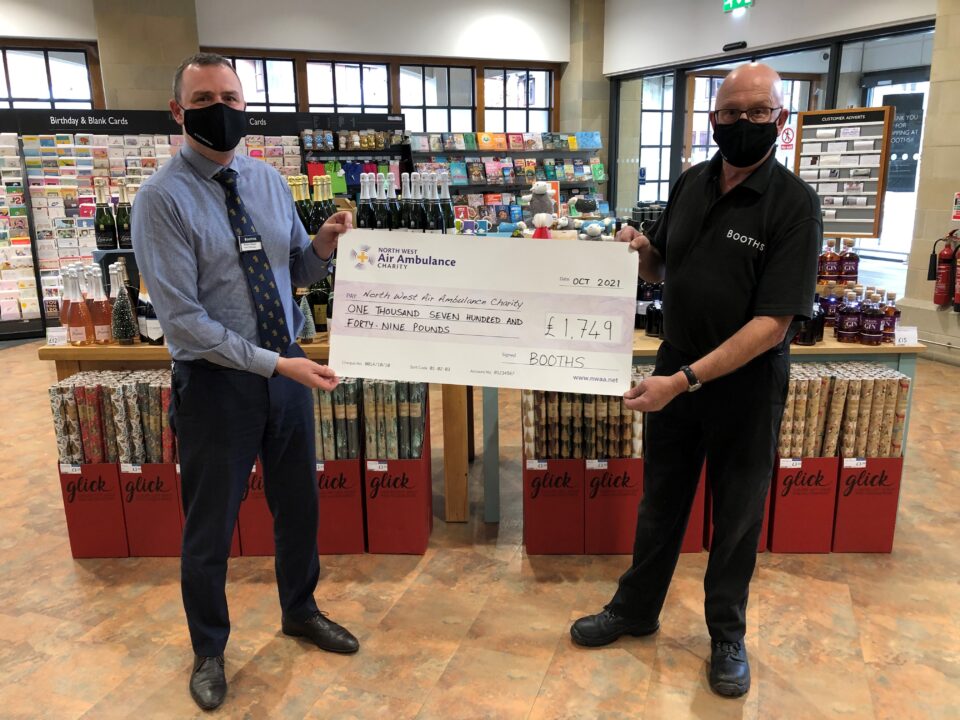 Pictured are Adam and Keith from the Garstang store. Of the £1,749 raised for the charity, Garstang raised £579.